Templar Museum / sancutary
The Templar Kingdom wants to buy a destroyed or ruined castle and restore it to its former glory. It plans to incorporate in this castle, a permanent templar museum, a monastery (where templars can study and learn), the royal library (which is being build as we speak and will be moved in, when the castle is purchased), a swordmanship traing camp, and medival shops. (where medival products can be bought.) This castle will be a refuge for christians in need, and a pilgrim destiny for all templars.
What we want the castle to eventually contain:
the castle:
Templar History Museum
4 converence Halls, (2 big & 2 small rooms )
a grand library
office
throne room (grand hall/ballroom)
a chapel
plenty of bedrooms
the outer buildings:
printingshop
farmacy/herbalshop/cleaning products/dental products/first aid (+in house doctor)
bookshop (books and caligraphy/writing material)
medieval clothing shop (all clothing/head gear/ no leather)
leathershop (all leather needs/sandals/leather headgear/sadles)
bakery/pasetryshop
barbershop/hair/nails
massage/accupuncture/hot stone relax
stained-glass/glas shop, cups/beakers(glass/ceramic)
restaurant with jousting area and life music /bar
medieval shop (no swords and shields) /cups /beakers /rings /crowns /tiara's /seals /wax /lamps /curtains /drapes /banners /flags /keychains)
metal smith (swords, shields /armour)
wineshop/spirits
on the premisses:
medieval marschal arts training camp
valconary
stables
Burial grounds for Knight Templars.
a farm
The Village:
a templar church
a school
a library
a well
an inn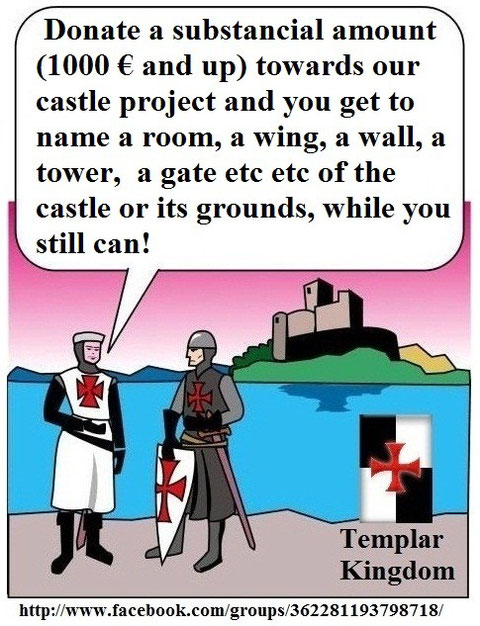 financing the project:
how we plan on financing the castle purchase.
1A) timeshare purchase; of one of the Inner rooms in the castle at a low price of 2000€/week/room only 780 inner room purchases are available. And Outer rooms at a low price of 1000€/week/room. Timeshare-week rates run from monday evening to monday morning following week. This timeshare can be paid in either 10 installments of 200€ or 20 installments of 100€ if you want.
1B) Buy a permanent appartment at 50.000€
2) Investment/Shares Investment return plan; invest an X amount of money and get a 10% interest return rate on the finished castle. Buy shares and get a yearly return on your share.
3) Donate and get to sleep for 2 nights free in the Outer rooms of the castle! Donate a substancial amount and and you get to name a room or a wing or a tower or a gate of the castle /grounds!